16 Mar 2020
How To Build An App Like Groupon?
Techugo Pvt. Ltd.
Who doesn't like discounts and offers?
The answer is; everyone does!
The mere mention of discounts, last-minute deals, limited period offers, coupons, and sales, make us our mind wagging its signals and we are extremely conscious to grab it before it vanishes.
For every business, the promotion done through the right marketing strategy can really do wonders. In this run, one app portal that solely is dedicated to bringing offers, deals, coupons to you, is nothing but a blessing.
Yes, you got me right, I am hinting at the Groupon.
Groupon; the coupon portal had close to 43.6 million active customers as the fourth quarter of 2019.
That is mind-blowing and really gives a spark to entrepreneur out there to try their hands with a unique mobile app portal, that not just engages the audience worldwide, but also gives an instant boost to the revenue on a huge scale.
Are you curious to know the interesting steps involved in the development journey of Groupon?
Then just don't wait any longer, since this blog post has covered everything for you…just stay tuned…
What is Groupon?
Groupon is more or less an eCommerce platform, offering coupons for goods or services. It works as a mediator between the targeted customer and the business to get better deals. With the help of coupon codes, Groupon keeps the customers motivated, and in return businesses also get to promote their services at a larger scale.
When a user gets the coupon, then only it gets the commission, and if the target is failed to meet, then the partner can deny any commission to the service.
What makes it popular?
Groupon has achieved success since it targets the users, who are looking forward to getting the discount on the products or services they are planning to buy. This motivates the users to buy the services and get the deals.
What all it takes to make an app like Groupon?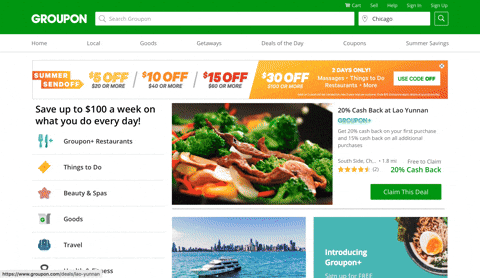 Groupon is an eCommerce store with a twist!
Here users get the coupons instead of products and that further helps in improving the sales cycle. To create a successful app portal like Groupon, you need to pay attention to some of the essential aspects, such as:
Admin panel
This is the crux of your portal, from where you would be able to manage your complete app. This is the place where the magic actually begins, and coupons, content, sellers' offers come into existence.
Content curation
In an app portal like Groupon, content plays a key role and allows the sellers to upload and manage the content themselves. Here you need to have the team of experts, who ensures that the quality of the content is maintained.
App UI/UX
Just like any other app, the UI/UX creates that X factor in your app's success road. With a well-thought user interface, you not just create an impressive user experience but also engage them further to stay onto the app and make the purchase, without bouncing back to your competitors.
Terms of use
You must not forget to give a strong check on the Terms of use. This will help all the users to get accurate information by using the right set of services, and this will save a lot of issues down the road.
Must Read: MAKING PAYMENT THROUGH AN E-COMMERCE APP, IS A GOOD DECISION?
App modules for an app like Groupon
User app portal
Merchant app portal
Admin app portal
Essential features required for User-Facing mobile app
Sign Up
Login
View deals
Invite friends
Bookmark as favorite
Apply coupon
Browse stores
Browse category-wise offers
Access getaways
Share deals via social media
Essential features required for Merchant-Facing mobile app
Sign Up
Login
Add deals
Manage deals
Track status
Manage orders
Mail system
Coupon redemption
Essential features required for Admin-Facing mobile app
Login
Manage deals
Manage coupons
Manage categories and sub-categories
Manage merchants
Content management system
Share deals
Advanced features to be considered
Navigation and tracking- Since a portal like Groupon, works with the users, who are looking forward to getting a deal in their local area. Navigation & tracking feature, integrated with Google Maps, would really help the app in abundance.
With this feature, users can easily identify deals related to dining, grocery, shopping, and much more in their vicinity.
Price Comparison– Since the concept of Groupon is based on the discounts and offers, the price comparison feature would really help a lot, wherein any buyer can compare the cheaper rates with a list of products, alongside their deals and coupons.
Real-time Analytics– This feature is very helpful for the merchants specifically, where they can analyze the traffic or engagement with any particular product, and in accordance with give more deals and offers to help the customers stay glued.
How much does it cost to build an app like Groupon?
The cost is one of the factors that bug you down, and you want to know the accurate cost figure, so you can identify its existence in your business model.
But what you must know, it is quite a daunting task to get the exact numerical figure to you, since behind the development, there are multiple factors involved in the journey, such as type of functionality, technology, number of features, platform and many other..and these all factors in total, decide the cost factor.
Hence, if you want to get one specific figure for the cost, then you must reach out to a team of experts, who can assess your concept, and provide the exact cost to you.
Final word
Eventually, the entire dream of building revenue based on an engaging app portal turns the head of millions.
Since an app like Groupon holds the potential to garner the massive ROI on the business model, so it becomes a much-required choice for the businesses to invest in such an app idea.
However, to have a much calculate and an MVP ready app to hit the market needs the expertise and experience of skilled app developers from Techugo.
Excited to take your business to the next step?
Simply, get in touch with us and help your business to step up the success ladder.
Get in touch.