What's the Key Behind Building an Enticing
Salon
Business?
It's best to construct a marketplace that works exceptionally for your business. Thus, there are two concept choices you may follow:
Standalone Salon Apps
Build an app and web solutions that enhance your brand! These applications will let your clientele make hassle-free appointments and efficient session scheduling. These are customized beauty service solutions that help in fabricating a reliable salon business.
Beauty and Salon Aggregator
If you're an entrepreneur and want to bring salon providers under one roof, now is your shot!
These apps enable the building of a collaborative ecosystem for offering salon services to targeted customers.
Why Do You Need a Salon
Booking App?
Digital solutions for salon professionals are fabricated with brilliantly designed user-friendly features in addition to upgrades within a salon scheduling app. Need more reasons to develop the best salon development app? Listed below are a few:
Manages Customer Requests
Users can directly book an appointment within a salon booking app by registering for the same via their email address or phone number. Furthermore, they can also request onsite or offsite services as per their preference.
Service Catalogue Management
Businesses tend to revise their service catalogs to keep their customers intrigued. For example, the catalog within a salon booking app is represented with images and the cost of each service. Therefore, we enable salon professionals to update the same to meet the dynamic needs of their customers.
Rate Card Management
The rate card is designed to display the charges of each service, and can be updated easily without hassle.
Don't forget, an ideal salon app development company will help you leverage all the required features.
Upcoming Bookings
The best thing about salon app development is to be able to view any upcoming bookings for making preparations in advance.
Booking History
How will you know about the clients that visited your salon last month? Here's when the booking history feature of a salon booking app comes into the picture!
The feature displays the previous appointments along with revenues earned on a specific day or month.
Availability Management
This feature allows the salon professional to mention if the services are currently available or not to add convenience to the customer's convenience.
Our Mobile and Web Development Process Will
Pave the
Way to Success!
Gather Ideas and
Requirements
The requirements of every entrepreneur vary. Therefore, it is significant for a salon app development company to gather and list all the ideas and demands of a client to study and work on the ideation efficiently.
Time and Cost
Estimation
As said, Time is Money. Here, at Techugo, we pay plenty of attention to analyzing your idea to give an accurate estimation of the overall delivery time to save you the hassle in the later stage
UI/UX Designs
Once the app idea is laid down and analyzed, our experts will start working on the app design or website to make it highly engaging and interactive.
App and Web
Development
As mentioned earlier, a ground-breaking app requires the integration of terrific features and compatibility with all mobile devices and browsers.
Testing and
Launch
This is the stage for our quality analysts to run tests and ensure a smooth functioning of your dream project before launching it on the app stores.
Features to Incorporate in a Flawless Salon App
Development
Features to Incorporate in a Flawless Salon App Development A reliable salon app development company incorporates efficient features as listed below:
The User Panel
Online booking
Catalog
In-app payment
Profile details and management
Geolocation
Automated confirmations
Push-notifications
Offers and discounts
Styling tips and suggestions
The Admin Panel
Registration record
Booking Calendar
User requests
Management
Catalog modification
Professional profile management
Business Model of Salon App
Development
For a business to survive in today's market, it is essential to build a digital space that helps in roping a solid consumer base. Not only this, but exceptional monetization strategies must be integrated to acquire a competitive edge.
Looking forward to earning well? Take a sneak peek at some of the best business models offered salon app development company:
Featured Listing
The salon industry also flourishes based on word-of-mouth publicity. Therefore, providing a featured listing to associated partners or other salons can harvest exceptional revenue.
Commission
Salon booking apps can also charge a commission to beauticians and salon owners for every service they provide via your app.
Subscriptions
A number of salon apps incorporate subscription models that are chargeable. Thus, people purchasing the premium version can enjoy benefits like advanced features, discounts, intriguing offers, and more.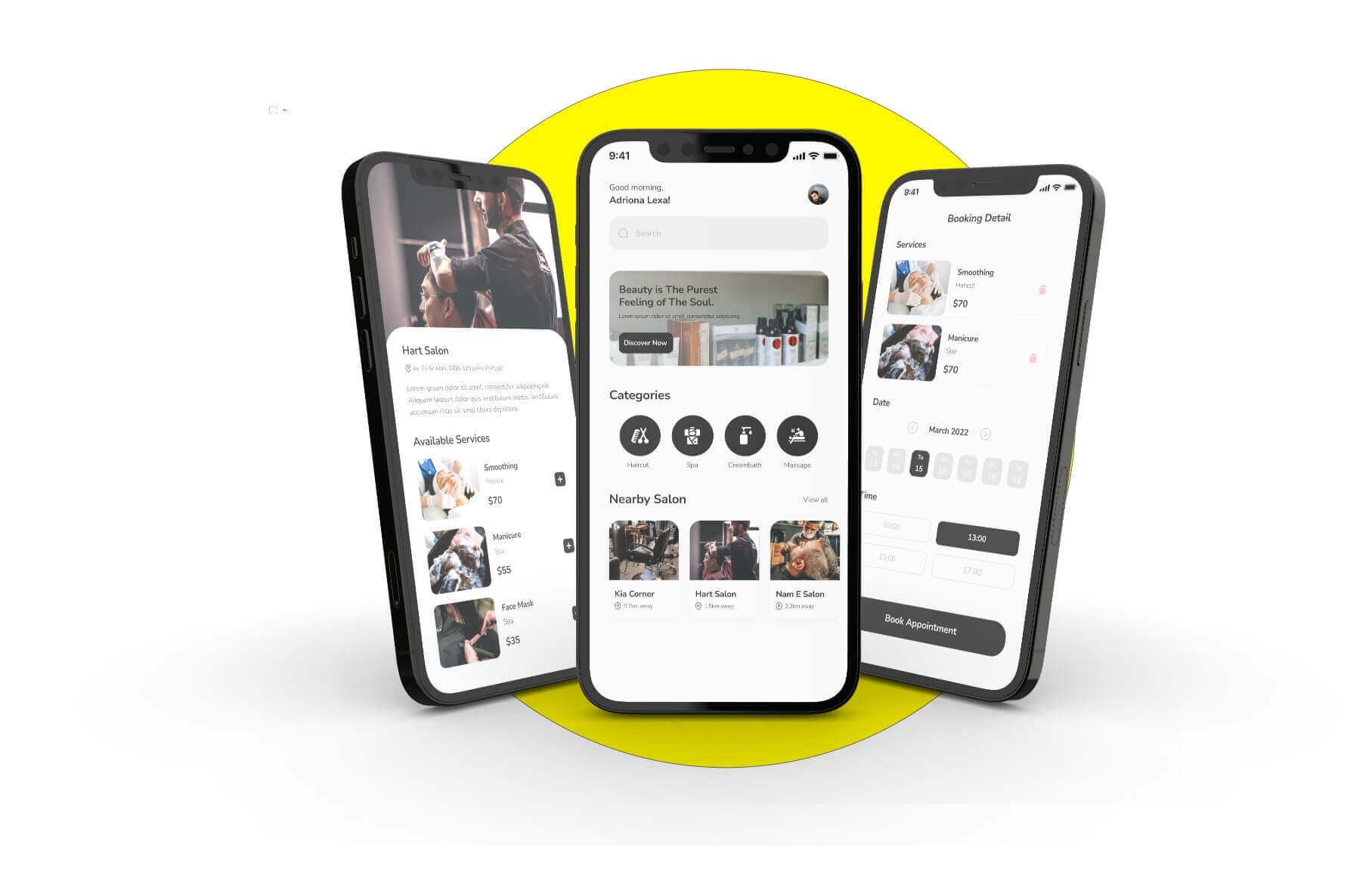 Why Choose
Techugo?
a leading salon app development company?
Experience
Just as you would trust your life with a skilled pilot, you would want to rope in a technical partner that is highly reliable. Isn't it?
Thus, you must onboard a team of developers that hold a vast experience, and fortunately, Techugo has got you!
We are a top-notch and recognized salon app development company, and our testimonials speak volumes for us.
Communication
That's right, communication is the key! It is significant for clients to present and put across their ideas transparently to enable the team to understand all the requirements.
So, make sure that you opt for a team that keeps in constant touch about the next step in the app development process. At Techugo, we ensure walking hand-in-hand not only during the development process, but post-launch as well.
Portfolio
We handpick our projects to make them one of a kind! As a result, we hold an incredible portfolio, and our team of mobility experts leaves no stone unturned to deliver a product that makes history.
Need to learn more?
Check our portfolio right here
App Development Cost
Sure, it is one of the most important factors that any client would look for. Therefore, to explain to you in detail, we have crafted a video that'll help you understand the quotation of a salon app development.
Cost of building a mobile app
Testimonials & Reviews
Here's what makes us go the extra mile!
"I was impressed with their timeliness, communicativeness, and keen understanding of the project. Techugo successfully delivered a fully functional and user-friendly app, which received positive feedback from my users."
"Techugo delivered high quality and accountability through effective project management & exceptional communication."
Gavin Lund
Sterkla
"They never left me hanging with the work. Techugo develops through its professional approach. They lead a communicative process, keeping everyone involved updated with the project."
Vicky Knowler
Champagne Photography Studio Inc
"I love their creativity, their designs are really fresh and modern. Right from the onboarding process to the Managerial Skills, I am highly impressed. I talk to them these days, even more than my family members, as they are not my tech partners but have become a part of my family now."
Xenia Ghali
Mynt
"Techugo never gives up on challenges and is able to communicate any issues the right way. They have the key experts to find and provide you with the Right Solutions."
Giuliano Cognini
Follow the notes
"The Product Manager is very thorough with his pointers and clarifications. I am super excited for the live process. You guys have done a great work."
Abdulaziz Aljeshi
Gymnest
"Brimming with innovative ideas and dependable technical expertise, Techugo meets their client's development needs and strives to complete their project timelines."
"Throughout the project, they were thorough with explanations, committing themselves to fix our problems. Techugo has been a strong partner for the client. They communicate well and always provide options for dealing with app-related challenges."
"They follow an agile methodology and work with the client daily to ensure the app runs properly."
"They guide me in how things can be done better. They've produced an impressive app featuring all requested design elements."
"I would definitely recommend Techugo. They're also good and on time in their follow-ups. In addition, they're swift compared to other companies I worked with. Lastly, Techugo recently opened an office nearby, which makes a big difference for me."
Amin Rasti
McGillivray Group
"The most impressive thing about Techugo is that the team operates as a family. Techugo produces quality results in a timely and collaborative manner."
Mohammed Abdul Moula
Winchat
"The entire team was experienced and delivered exceptional work. Techugo delivered everything on time and tracked the project through Zoho."
Ashutosh Pandey
SP Jain School of Management
"They have an excellent method of thinking things through to find a better solution. Techugo was available 24/7. Whenever I emailed or texted them with a question, they returned to me. Since we're in different time zones and continents, I found that especially impressive"
"They have done a great job with the services they have provided for us. For us, Techugo shined brightly with their professionalism."
"Techugo communicated clearly and consistently about their expectations, progress, and vision throughout the project."
Wilhelm Myrer
Twoway Energy Ventures
"Because they have so many skill sets, we get past it quickly when we hit a roadblock. They have a lot of people in-house. If the dedicated resource on my project can't do something, they have a backup. They have people skilled in different techs."
"They really helped me gain confidence by working with them. Organisation, transparency, and quality assurance set Techugo apart from other providers."
Raghunandan Malik
Eastern Book Company
"We're loving the work. Your team is simply amazing. We have a long way to go, phase 1 is just the beginning."
Kenneth Butler
Dj Connect
"I think they're awesome. I've talked to them at 2 a.m. or later. If I need them, I can send an email and get a response within an hour. If they can't answer my question right away, they'll let me know that they're working on an answer. Their prompt response to my questions and concerns is what distinguishes them from others."
Tajudeen Raji
Reachout Wellness

Get in touch.