Why Invest in Grocery Delivery
App Development Company?
If you're into the grocery business, here are some of the well-researched reasons to transform your old approach into a digital space. Take a look:
Nominal Startup Cost
Don't want to burn a hole in your pocket? Don't worry, grocery store delivery app development won't cost you a fortune!
What's more? You wouldn't even have to operate from a physical space. All you need to do is build a grocery app that enables your customers to purchase goods online.
Customer Satisfaction
Nowadays, people look for convenience and comfort, one of the best reasons to introduce an on-demand grocery delivery app that brings customers their necessities to their doorstep.
Efficient Cost Comparison
Customers tend to check product prices in multiple stores before purchasing the same. Therefore, grocery delivery app development will make it much easier for customers to keep a check on prices from the comfort of their homes, and they won't have to visit the stores.
Customized Solutions
What's better than offering customized solutions to your audience to build a broad customer base? For example, you may offer custom-built products for your clientele having specific health conditions, diet-conscious, vegan, etc.
Hire a grocery delivery app development company to segregate these sections efficiently to meet your requirements and turn your vision into reality.
Rapid Business Growth
Who isn't online these days? Therefore, now is your best shot at introducing a grocery delivery app that takes your audience by storm. Target a wider market via grocery delivery app development and experience business growth in no time.
Transparency
Today, customers are well aware of their choices than ever! Thus, compromising with transparency isn't a great option. Instead, while building your grocery app, ensure that you're setting a transparent procedure for your app users and a secure payment mechanism. Sure, it'll build trust between the two parties, and you may be able to retain your customers well.
Features That'll Help Your Grocery
Delivery Business Grow
A feature-rich grocery delivery app development boosts your customer's user experience. So, listed below are a few must-have features that'll enhance the overall beauty of your grocery delivery app.
Also, don't forget to get a reliable grocery delivery app development company on board for building a hassle-free mobility experience.

Addition of Unlimited Products
As mentioned earlier, building a personalized experience for your customers with different preferences may bring the advantage of a wider customer base for your business.
Push Notifications
Push notifications to intrigue app users to tap and visit the application. Indeed, it's incredible to alert them about ongoing deals, discounts, and more.
Multiple Payment Gateways
Digital money is not just the talk of the town, but people nowadays do not carry their wallets only because they can pay via a single tap. So don't you think enabling them to pay with the help of multiple payment gateways is a keeper trick?
Frictionless Delivery Tracking
A delivery system is of no use without efficiently being able to track the order. Therefore, Techugo is an exceptional grocery delivery app development company that takes care of the minutest details, like incorporating a robust tracking system to fabricate an app that your customers will love.
Smart Search
Do you want to build a flawless search engine for your grocery delivery app? The search option will allow customers to easily search for products and instantly add them to the cart.
Shopping List Reminder
Is it that time of the month? A shopping list reminder feature of a grocery delivery app will remind the app users about their monthly grocery shopping, and the consumers can order immediately after building a list.
The Working Mechanism of a Grocery
Delivery App
Grocery apps involve a simple mechanism for end users to receive groceries at their doorsteps without stepping out of their comfortable homes. Thus, as a top-notch grocery delivery app development company, we cater to your needs and build a solution that works exceptionally.
Take a look at the steps below to learn more about working on an on-demand grocery app.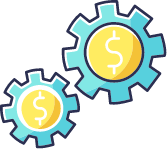 Sign In
Let end users sign up upon onboarding for the creation of their profile.
1
Location-Based Navigation
It will enable users to locate their nearby grocery stores for online ordering.
2
Store Locator
App users will be able to search their preferred grocery stores if any.
3
Cart and In-App Payment
Users can add items to the cart and place their orders seamlessly by processing in-app payment methods.
4
Order Tracking
Once an order is placed, your app will allow customers to track their orders in real time.
5
Ratings and Feedback
Customers can rate their grocery delivery experience within the app.
6
Five Steps To Build an Efficient

Grocery Delivery App
Take a look at the drill you must follow with the help of a
grocery delivery app development company.
Strategize
The first and foremost task is to define a business plan and acquire answers to questions like:
Who is your target audience?
What is the unique value you'll be offering to your customers?
What kind of a business model you'll follow?
At Techugo- the best grocery delivery app development company, we offer a team of expert technocrats who build an exceptional framework and turn your dream into reality.
Prototype
The strategizing phase is followed by testing the product idea by laying down an interactive prototype. The end result involves a graphical shell of the app that test users can test for their feedback and improvement suggestions.
Development and Testing
Now that you're ready to move on to the development stage, here are a few things to keep in mind while working with a reliable grocery delivery app development company:
The bare minimum is an ideal choice for customers.
You must keep in constant touch with your clientele to inform them about the progress of their project.
Do not brim the app with every fascinating technology or feature.
Pilot Launch
This stage involves uploading the mobile app to Play Store, App Store, or both. It is also important to ensure that the app is implemented with CI/CD prior to its release.
Maintenance
This step contains the after-work on the app, including performance monitoring, issue resolution, user engagement, etc.
Have more queries regarding grocery
delivery app development? Get expert
consultation today!

Get in touch Frequently Asked
Questions
A grocery delivery app is a mobile application that allows users to browse, order, and pay for groceries online. These apps connect users with local grocery stores or delivery partners to facilitate the delivery of groceries to their doorstep. Therefore, if you want to get a grocery app developed, get in touch with the best grocery delivery app development company for assistance.
Grocery delivery apps typically follow a similar workflow. Users create an account, browse through a list of available products, add items to their cart, and proceed to checkout. The app then sends the order details to the nearest grocery store or delivery partner. Once the order is prepared, a delivery person picks it up and delivers it to the user's specified location. Notably, it is the typical functioning provided by a reliable grocery delivery app development company.
Developing a grocery delivery app requires a combination of design, development, and integration skills. Here are the general steps involved in the process that are followed by the best grocery delivery app development company :
- Define your app's features and target audience.
- Design the user interface and user experience.
- Develop the frontend and backend of the app.
- Integrate secure payment gateways and third-party APIs.
- Test the app for functionality, performance, and security.
- Launch the app on relevant app stores.
- Continuously monitor and update the app based on user feedback.
When selecting a grocery delivery app development company, consider the following factors:
- Expertise and experience in app development.
- Portfolio of past projects and client testimonials.
- Technical skills in relevant programming languages and frameworks.
- Ability to provide end-to-end services, including design, development, testing, and support.
- Knowledge of emerging technologies and industry trends.
- Budget and pricing structure.
- Communication and collaboration capabilities.
- Timelines for project delivery.
Testimonials & Reviews
Here's what makes us go the extra mile!
"I was impressed with their timeliness, communicativeness, and keen understanding of the project. Techugo successfully delivered a fully functional and user-friendly app, which received positive feedback from my users."
"Techugo delivered high quality and accountability through effective project management & exceptional communication."
Gavin Lund
Sterkla
"They never left me hanging with the work. Techugo develops through its professional approach. They lead a communicative process, keeping everyone involved updated with the project."
Vicky Knowler
Champagne Photography Studio Inc
"I love their creativity, their designs are really fresh and modern. Right from the onboarding process to the Managerial Skills, I am highly impressed. I talk to them these days, even more than my family members, as they are not my tech partners but have become a part of my family now."
Xenia Ghali
Mynt
"Techugo never gives up on challenges and is able to communicate any issues the right way. They have the key experts to find and provide you with the Right Solutions."
Giuliano Cognini
Follow the notes
"The Product Manager is very thorough with his pointers and clarifications. I am super excited for the live process. You guys have done a great work."
Abdulaziz Aljeshi
Gymnest
"Brimming with innovative ideas and dependable technical expertise, Techugo meets their client's development needs and strives to complete their project timelines."
"Throughout the project, they were thorough with explanations, committing themselves to fix our problems. Techugo has been a strong partner for the client. They communicate well and always provide options for dealing with app-related challenges."
"They follow an agile methodology and work with the client daily to ensure the app runs properly."
"They guide me in how things can be done better. They've produced an impressive app featuring all requested design elements."
"I would definitely recommend Techugo. They're also good and on time in their follow-ups. In addition, they're swift compared to other companies I worked with. Lastly, Techugo recently opened an office nearby, which makes a big difference for me."
Amin Rasti
McGillivray Group
"The most impressive thing about Techugo is that the team operates as a family. Techugo produces quality results in a timely and collaborative manner."
Mohammed Abdul Moula
Winchat
"The entire team was experienced and delivered exceptional work. Techugo delivered everything on time and tracked the project through Zoho."
Ashutosh Pandey
SP Jain School of Management
"They have an excellent method of thinking things through to find a better solution. Techugo was available 24/7. Whenever I emailed or texted them with a question, they returned to me. Since we're in different time zones and continents, I found that especially impressive"
"They have done a great job with the services they have provided for us. For us, Techugo shined brightly with their professionalism."
"Techugo communicated clearly and consistently about their expectations, progress, and vision throughout the project."
Wilhelm Myrer
Twoway Energy Ventures
"Because they have so many skill sets, we get past it quickly when we hit a roadblock. They have a lot of people in-house. If the dedicated resource on my project can't do something, they have a backup. They have people skilled in different techs."
"They really helped me gain confidence by working with them. Organisation, transparency, and quality assurance set Techugo apart from other providers."
Raghunandan Malik
Eastern Book Company
"We're loving the work. Your team is simply amazing. We have a long way to go, phase 1 is just the beginning."
Kenneth Butler
Dj Connect
"I think they're awesome. I've talked to them at 2 a.m. or later. If I need them, I can send an email and get a response within an hour. If they can't answer my question right away, they'll let me know that they're working on an answer. Their prompt response to my questions and concerns is what distinguishes them from others."
Tajudeen Raji
Reachout Wellness

Get in touch.