Connect With Techugo
Top Mobile App
Development Company
in India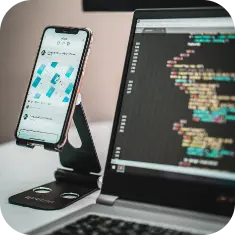 Strongest global technology company pioneering digital business transformation through mobility. Connect with our mobile app developers to craft a progressive solution for your global audience.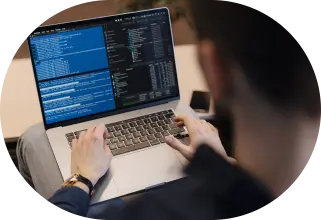 The impact of
partnering with a leading
mobile app development

company in India
The wave of digitization is inspiring traditional businesses to get on board with the trend of using mobile applications & trigger their revenue funnel.
Irrespective of the size of the company/industry, mobile app development has always displayed and proved its potential to drive growth, manage inventory, boost communication, improve operations, optimise production, and much more.
Top Mobile app development companies like Techugo help businesses bridge the gap between their process and audience in an advanced manner.
A smartly developed mobile application can eliminate all the limitations of a traditional brick-and-mortar business and help to tap into the growing digital world.
So, how about scheduling your first consultation with a top mobile app development company in India?.
Learn more
Services We Offer
Best app development companies in India like Techugo delivers complete tech support to
businesses that want to expand their digital presence.
BE OUR TECHNOLOGY PARTNER
Connect With Best Mobile App
Developers At Techugo
Techugo is a top mobile app development company In India, enabling change with technology and innovation. Our team's strategic grip over emerging trends & technologies has helped over 27 apps to raise total funding of $896M from Venture Capitals, Incubators, Angel Investors, YC Combinators and much more.
By catering to the clientele's passion points and attributes, we hear, see and help our technology partners to resonate with their digital audience.
Our mobile app development company in India is an active technology partner of over 87% of existing clientele, including Fortune 200s & Global 2000s.
Because of our development expertise, we have ensured long-term monitoring and seamless management of crafted mobile applications.
Through technology partnerships across the globe, our mobile app development company in India aims to forge stronger professional relationships, simplify information flow and deliver high-end products at a competitive price.
Let's Talk
Partnership
Models We Offer
To Our Clientele
Here's what Techugo- the best mobile app development company in India has to offer:
Find your fit
Fixed PriceModel
Time & Material Model
On-Site Development Model
OUR PROCESS
How Does The Top Mobile App
Development Company In India Work?
Product Discussion
This phase helps position the app right in the market through valid user research and robust competitive analysis. The product strategy delivered by the mobile app development company in India reflects the beautiful fusion of our design, development, and marketing strategies, helping us to create a successful app product and consequently let your business experience the difference.
We comprehend your app idea

We deploy the best and most experienced resources

We conduct three layers of testing

We offer full-fledged after app launch support
Analysis & Wireframing
As a leading mobile app development company in India, we analyse your app concept thoroughly and create a wireframe, which makes a screen blueprint; a visual guide representing the skeletal framework of a mobile app. It helps you to understand how the application will work and function with different screens. This creates a symphony in your app idea and technical discipline, and finally brings the world-class app into existence.
We help you understand the app flow

We ease down the woes of transition

We help in reducing the overall development cost

We give you a visual representation of the concept
Development
We include the latest technologies like Flutter and React Native, to name a few to help users get an easy and engaging app interface. We, the best mobile app development company in India, experiment with the latest technologies and imbibe them as a part of our development methodologies and this is where we get an edge over our competitors. Be it the Android or iOS app development process, we being the best mobile app development company, keep our focus intact in implementing the latest technology trends in development strategy.
We analyse the app idea

We create a wireframe

We develop with the help of experts

We test app from every possible angle
Deployment
We pick the manual efforts filled with complexity to take out the human error out of application deployment. Our team invests their time and passion for deploying an incredible app solution to your end-users. We include reliable deployment strategies; copying, configuring and enabling your application to a specific store, to attain further success.
Understand & review the guidelines

Keep our app updated with the guidelines

Sift the app to make it glitch-free

Deploy app successfully
Marketing Insights
This step helps the app to grow widely popular. From the minute your app concept and design get the final nod from your end, we plan to figure out how to entice the ideal users and encourage them to download the app. Our best mobile app development company delivers strategies that include landing page best practices, app store optimization, referral marketing, and paid media to help your mobile app stand out and survive cut-throat market competition with flying colours.
We assess opportunities & threats

We create devising marketing strategies

We drive app downloads number

We identify the audience and convert them into users
Designing
A design speaks volume about the mobile app and clearly indicates how an app interacts with its users. The design holds benefits in abundance, the virtual effects and definitions shown within the design represent the real aim of the app concept. Our designers arrange the application design according to the app content, so the best infrastructure can be experienced.
We analyse your app's concept

We maximise the app's visual sense

We keep the audience demand in mind

We create a story through our design
Testing
We- a top mobile app development company in India strongly believe in creating extraordinary app solutions which are infused with the trending technologies in a way, so users can experience the best app experience, without being bugged by the technical glitches. Our testing process ensures to cut-down the chaos of complexity of technology into our developed app solution, letting the users enjoy the best experience in every possible manner.
We perform syntax testing

We follow Automation Methodology

We integrate Test Cases Management & Strategy

We sift down the app to eliminate the glitch
Catering To Our Global Clientele!
North America
South America
Europe
Africa
Asia
Australia
Our Own Forte
Frequently Asked
Questions
Techugo is a top mobile app development company in India since they efficiently cater to their client's needs by developing digital products for visionaries.
The brood of experts has globally delivered exquisite mobile app development services to Fortune 200, Global 2000, Future unicorn startups, and many more companies.
The cost of developing a mobile app is a bit like the cost of creating a movie. You can shoot a complete movie through your iPhone for free or you can hire a gigantic Hollywood studio for half a billion dollars and create a blockbuster.
For an MVP cost of building can range anywhere from 30 to 80K USD.
For CAW or Concept Analysis Workshop, the cost is between 7 to 20K USD.
The development of the complete product takes longer than building an MVP or CAW, as it has an ongoing cost necessary for maintenance and growth. The cost of building a product can range anywhere between 40K to 500K USD.
During the ideation stage, you can protect your idea by signing a Non Disclosure Agreement with the mobile app development agencies. But as soon as a unique app idea is launched in the market, the competitors try to implement it in their digital products as well. One way to protect your idea is to get it patented, but that too will protect it up to a limit.
The only way to truly protect your idea is to roll it out before your competitors.
If you want to choose the best mobile app development company, then you need to go through the portfolios of the shortlisted companies. This will give you a clear idea about the technical expertise of the company. You need to choose the ones that have rich technology experience and deliver consistent support.
To connect with the best mobile app development company in India, you must be aware of your business requirements. Furthermore, please review the team and their portfolio for better judgement. Understand their pricing and listen to their ideas. You may also contact their previous clients for feedback before hiring the team!
Testimonials & Reviews
Here's what makes us go the extra mile!
"I was impressed with their timeliness, communicativeness, and keen understanding of the project. Techugo successfully delivered a fully functional and user-friendly app, which received positive feedback from my users."
"Techugo delivered high quality and accountability through effective project management & exceptional communication."
Gavin Lund
Sterkla
"They never left me hanging with the work. Techugo develops through its professional approach. They lead a communicative process, keeping everyone involved updated with the project."
Vicky Knowler
Champagne Photography Studio Inc
"I love their creativity, their designs are really fresh and modern. Right from the onboarding process to the Managerial Skills, I am highly impressed. I talk to them these days, even more than my family members, as they are not my tech partners but have become a part of my family now."
Xenia Ghali
Mynt
"Techugo never gives up on challenges and is able to communicate any issues the right way. They have the key experts to find and provide you with the Right Solutions."
Giuliano Cognini
Follow the notes
"The Product Manager is very thorough with his pointers and clarifications. I am super excited for the live process. You guys have done a great work."
Abdulaziz Aljeshi
Gymnest
"Brimming with innovative ideas and dependable technical expertise, Techugo meets their client's development needs and strives to complete their project timelines."
"Throughout the project, they were thorough with explanations, committing themselves to fix our problems. Techugo has been a strong partner for the client. They communicate well and always provide options for dealing with app-related challenges."
"They follow an agile methodology and work with the client daily to ensure the app runs properly."
"They guide me in how things can be done better. They've produced an impressive app featuring all requested design elements."
"I would definitely recommend Techugo. They're also good and on time in their follow-ups. In addition, they're swift compared to other companies I worked with. Lastly, Techugo recently opened an office nearby, which makes a big difference for me."
Amin Rasti
McGillivray Group
"The most impressive thing about Techugo is that the team operates as a family. Techugo produces quality results in a timely and collaborative manner."
Mohammed Abdul Moula
Winchat
"The entire team was experienced and delivered exceptional work. Techugo delivered everything on time and tracked the project through Zoho."
Ashutosh Pandey
SP Jain School of Management
"They have an excellent method of thinking things through to find a better solution. Techugo was available 24/7. Whenever I emailed or texted them with a question, they returned to me. Since we're in different time zones and continents, I found that especially impressive"
"They have done a great job with the services they have provided for us. For us, Techugo shined brightly with their professionalism."
"Techugo communicated clearly and consistently about their expectations, progress, and vision throughout the project."
Wilhelm Myrer
Twoway Energy Ventures
"Because they have so many skill sets, we get past it quickly when we hit a roadblock. They have a lot of people in-house. If the dedicated resource on my project can't do something, they have a backup. They have people skilled in different techs."
"They really helped me gain confidence by working with them. Organisation, transparency, and quality assurance set Techugo apart from other providers."
Raghunandan Malik
Eastern Book Company
"We're loving the work. Your team is simply amazing. We have a long way to go, phase 1 is just the beginning."
Kenneth Butler
Dj Connect
"I think they're awesome. I've talked to them at 2 a.m. or later. If I need them, I can send an email and get a response within an hour. If they can't answer my question right away, they'll let me know that they're working on an answer. Their prompt response to my questions and concerns is what distinguishes them from others."
Tajudeen Raji
Reachout Wellness

Get in touch.