Connect With Top
ECommerce App
Development Company
Electronic commerce has created a stir in the market, and the pandemic crisis has boosted its popularity level to another extent. But it's not easy for retailers to acquire and retain digital space because of fierce competition in the industry. Connect with Techugo, ecommerce app development company to pave your way into this competitive market.
Let's Talk
Why Choose Techugo as a Reliable
Ecommerce App Development Company?
By catering to the clientele's passion points and attributes, Techugo, a leading ecommerce app development company hears, sees and helps its partners to resonate with their digital customer base. Within a short span of 7 years, our brood of e-Commerce mobile app developers has crafted 750+ dreams in the form of successful digital businesses. Our high-end channel partnerships in UAE, UK, South Africa, Canada, and Australia enable us to externalise client onboarding & maximise tech support internally to offer you elevated customer experience with minimal additional costs.
What Do Your Consumers
In The Digital-age Want?
The trend of ecommerce app development started with the digital transformation of the retail industry. The new-age consumer is looking for a personalised experience with a top-notch ecommerce app development company with enhanced services. Techugo, being the best ecommerce app development company, has experience of working with global clientele in the retail industry. The experts at Techugo suggest the following factors that the customer is looking for these days. Take a look!
Convenience
If the users don't have time to visit properties due to a hectic lifestyle, you need to pursue real estate app development to deliver services at their fingertips.
Accessibility
The hectic lifestyle leaves a limited time for the consumers to shop. Businesses thus need to make themselves available 24*7 through e-commerce app development.
Personalization
With the expansion of technologies like AI and ML, brands can now sell online through smart and personalised recommendations to their customer base.
Benefits
Techugo, a leading e-commerce mobile app development company suggests that users shop more online to get better deals & brands need to leverage the same.
Initiate eCommerce App
Development Today!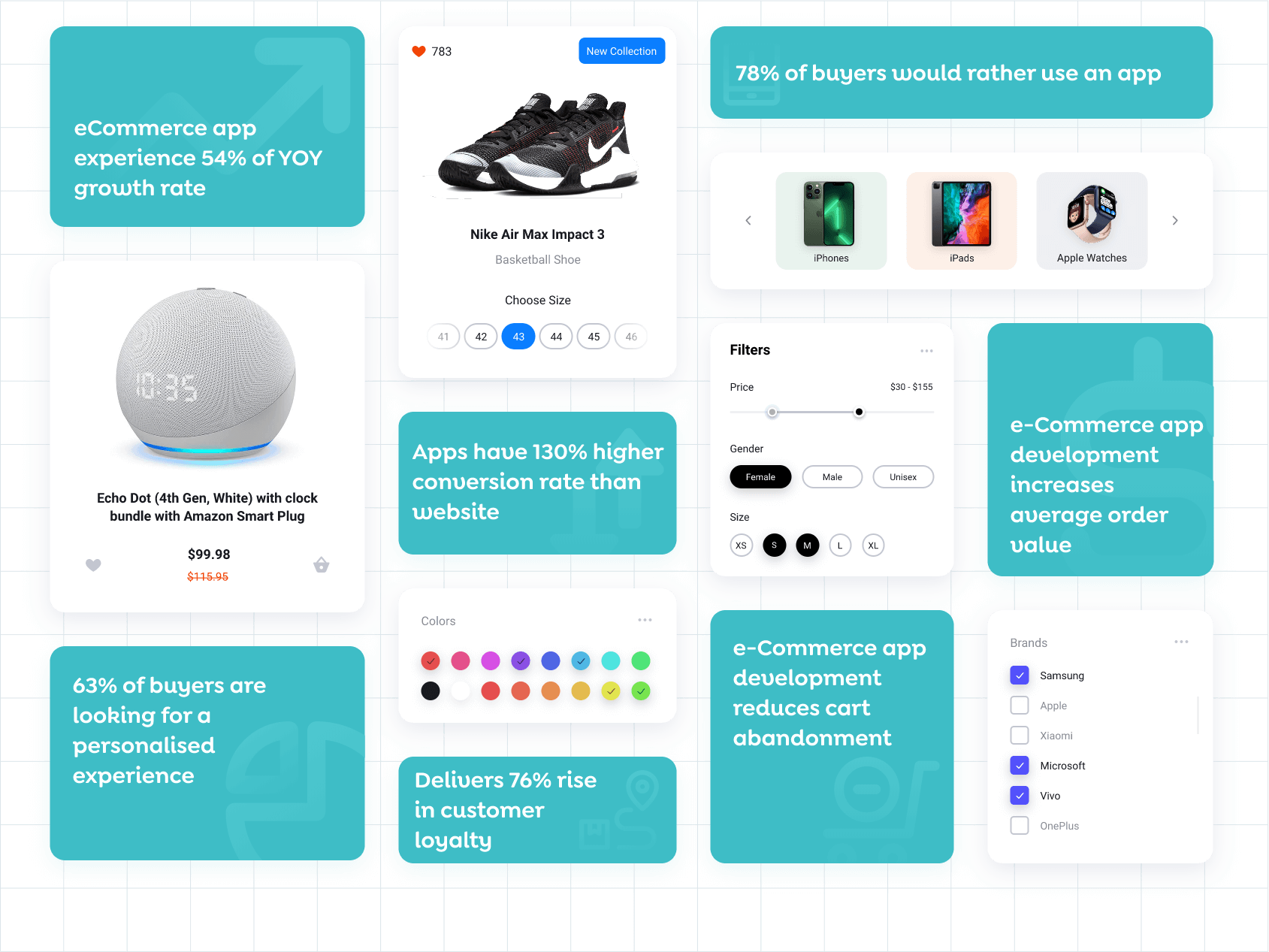 Best Tech To Integrate In Your
eCommerce Mobile App
Professionals at Techugo, a leading eCommerce app development company suggest the following tech trends to integrate during development to boost the online experience of your customers.
Big Data & Analytics
AR & VR Experience
One-click Purchase
Chatbots
Social media commerce
AI & ML
Our Own Forte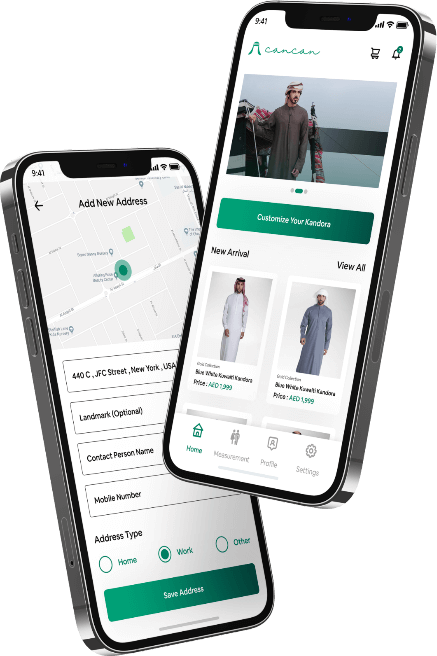 CanCan
We helped an Abu Dhabi-based company to provide a seamless experience for kandora buyers & wearers. We crafted an AI-based CanCan app that allows users to self-measure using an integrated mobile phone capability.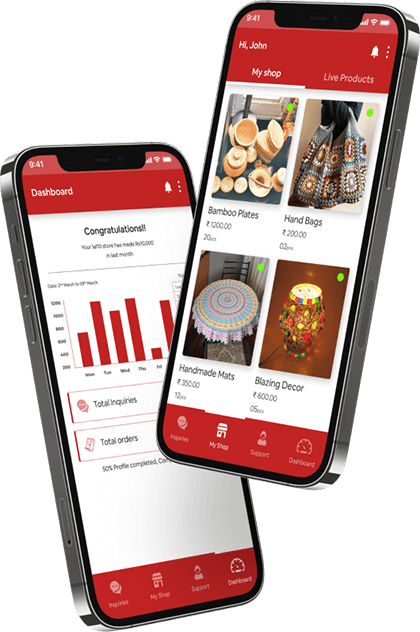 Lal10
Our experts created an app for Lal10, an online wholesale marketplace for small & medium rural SMEs in India. Techugo helped Lal10 to connect with 1800 SMEs across 28 rural districts across India to global retailers.
ShopQuartz
We created a stunning digital platform for Shop Quartz, one of USA's go-to companies, to sell best quality and elite quartz & services. The brand is created to deliver luxurious & elegant kitchens, baths & other commercial places to its user base.
eCommerce Mobile App
Development In 8 Simple Steps
Creating a mobile app is not a cakewalk. As a leading eCommerce app development company, we need to take care of several factors from market competition & user requirement to blissful experience & after launch support. To deliver the same & allow you a basic understanding of our process we've divided e-Commerce app development into 8 simple steps.
Research
Setting Goals
Defining Feature Set
Creating UI/UX design
Creating MVP
Gathering Feedback
Optimising
3 Things We Take Care Of
During eCommerce App Development!
Our eCommerce app development company pays special attention to the following mentioned factors during the creation of your digital product.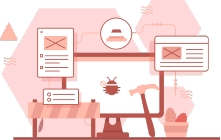 Stability
We eliminate bugs to prevent your app from crashing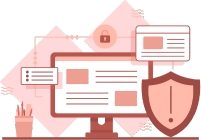 Data Security
We prioritise security of your buyers' personal data from unauthorised usage.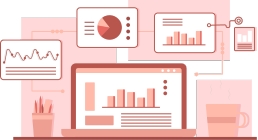 Analytics
We enable your app to handle an ever-growing number of users.
Top Features For eCommerce Mobile App
As a top top eCommerce app development company we suggest the following features for a successful digital product.
Tech Stack Needed For
eCommerce App Development
Before roping in the best ecommerce app development company, take a look at the tech-stack that is involved behind the delivery of a quality-derived product.
SMS, VOICE, AND
PHONE VERIFICATION
DATA STORAGE
AWS
Amazon S3
Google Cloud Platform
PAYMENTS
Braintree & PayPal
E-wallets
Stripes
DATABASE
MongoDB
Mail Chimp Integration
Cassandra
HBase
STREAMING MEDIA SYSTEM
Helix Universal Server
Nimble Streamer
Wowza Streaming Engine
Frequently Asked
Questions
There are a few factors that must be considered before hiring the perfect tech partner for your business. Some of the most-common factors involve:
- Check reviews and testimonials
- Check the organization's portfolio
- Request for the developer's profiles
- Time to market
- Cost estimation
- Ensure post-development support
Ecommerce applications are an extension of ecommerce that is developed by businesses to work as service providers for their target audience. Thus, a business trying to create its digital space succeeds only when an efficient ecommerce app is built with the help of an exceptional ecommerce app development company.
If you're to launch an ecommerce business, it is vital to opt for one of the below mentioned categories:
- Business-to-business
- Business-to-consumer
- Consumer-to-consumer
- Consumer-to-business
For further assistance on adopting the accurate business model, reach out to the best ecommerce app development company
Every mobile app must be leveraged with the best features for acquiring a solid consumer base. Therefore, a terrific ecommerce app development company will suggest you to incorporate features like push notifications, offline functionality, app review, easy sign-up, multiple payment gateways, search bar, product filter, etc.
If you've hired a top-notch ecommerce app development company, you're most likely to encounter popular ecommerce trends like chatbot, big data, voice assistants, wearable, AR/VR, geofencing, etc.
It is always beneficial to discuss how an ecommerce app development company will take your project forward. Therefore, some of the most important steps include:
- Identifying app goals
- Identifying the audience
- Selecting the right technology
- Identifying requirements and features
- Process and budget planning
- Testing and app release
- Marketing
Notably, there's no universal figure that could define the overall cost since it entirely depends on numerous factors. Therefore, some of these factors are as mentioned below:
- Choice of the platform
- UI/UX design
- Number of features integrated
- Complexity of the project
- Developer's cost
- AND MORE!
For further assistance on planning the entire budget, get in touch with an efficient ecommerce app development company.
Testimonials & Reviews
Here's what makes us go the extra mile!
"I was impressed with their timeliness, communicativeness, and keen understanding of the project. Techugo successfully delivered a fully functional and user-friendly app, which received positive feedback from my users."
"Techugo delivered high quality and accountability through effective project management & exceptional communication."
Gavin Lund
Sterkla
"They never left me hanging with the work. Techugo develops through its professional approach. They lead a communicative process, keeping everyone involved updated with the project."
Vicky Knowler
Champagne Photography Studio Inc
"I love their creativity, their designs are really fresh and modern. Right from the onboarding process to the Managerial Skills, I am highly impressed. I talk to them these days, even more than my family members, as they are not my tech partners but have become a part of my family now."
Xenia Ghali
Mynt
"Techugo never gives up on challenges and is able to communicate any issues the right way. They have the key experts to find and provide you with the Right Solutions."
Giuliano Cognini
Follow the notes
"The Product Manager is very thorough with his pointers and clarifications. I am super excited for the live process. You guys have done a great work."
Abdulaziz Aljeshi
Gymnest
"Brimming with innovative ideas and dependable technical expertise, Techugo meets their client's development needs and strives to complete their project timelines."
"Throughout the project, they were thorough with explanations, committing themselves to fix our problems. Techugo has been a strong partner for the client. They communicate well and always provide options for dealing with app-related challenges."
"They follow an agile methodology and work with the client daily to ensure the app runs properly."
"They guide me in how things can be done better. They've produced an impressive app featuring all requested design elements."
"I would definitely recommend Techugo. They're also good and on time in their follow-ups. In addition, they're swift compared to other companies I worked with. Lastly, Techugo recently opened an office nearby, which makes a big difference for me."
Amin Rasti
McGillivray Group
"The most impressive thing about Techugo is that the team operates as a family. Techugo produces quality results in a timely and collaborative manner."
Mohammed Abdul Moula
Winchat
"The entire team was experienced and delivered exceptional work. Techugo delivered everything on time and tracked the project through Zoho."
Ashutosh Pandey
SP Jain School of Management
"They have an excellent method of thinking things through to find a better solution. Techugo was available 24/7. Whenever I emailed or texted them with a question, they returned to me. Since we're in different time zones and continents, I found that especially impressive"
"They have done a great job with the services they have provided for us. For us, Techugo shined brightly with their professionalism."
"Techugo communicated clearly and consistently about their expectations, progress, and vision throughout the project."
Wilhelm Myrer
Twoway Energy Ventures
"Because they have so many skill sets, we get past it quickly when we hit a roadblock. They have a lot of people in-house. If the dedicated resource on my project can't do something, they have a backup. They have people skilled in different techs."
"They really helped me gain confidence by working with them. Organisation, transparency, and quality assurance set Techugo apart from other providers."
Raghunandan Malik
Eastern Book Company
"We're loving the work. Your team is simply amazing. We have a long way to go, phase 1 is just the beginning."
Kenneth Butler
Dj Connect
"I think they're awesome. I've talked to them at 2 a.m. or later. If I need them, I can send an email and get a response within an hour. If they can't answer my question right away, they'll let me know that they're working on an answer. Their prompt response to my questions and concerns is what distinguishes them from others."
Tajudeen Raji
Reachout Wellness

Get in touch.