Digitization Of the Education Industry
with eLearning App Development Company
Better Learning

elearning app development is providing the world with access to better learning options. In addition, the inclusion of social media has elevated the chances of collaboration, expression, and participation amongst the students. No wonder the elearning app development company has a tremendous role to play in creating such a hassle-free experience!

Better Communities

Integration of new learning techniques enables students to get familiar with each other. It is helping them to make friends and form positive communities. New age platforms developed by an elearning app development company also successfully boost communication between schools, students & parents.

Better Retention

With an elearning app development, students have more control over the education process. They can track their progress, evaluate their shortcomings, and revisit the training as needed. In addition, an elearning app development company makes the complete process more enjoyable, because of which learners are more proactive.
Striking Features Of elearning App Development!
Here are some of the top-notch features leveraged by an efficient elearning app development company:
Virtual Classrooms
Gamification of
courses
Data
Security
Video content
streaming
Online progress
assessment
Clean & easy UI/UX
Why Connect with an elearning
App Development Company?
The use of smartphones and technology is at its peak, and digital classrooms have successfully replaced traditional four-walled classrooms. However, there are many more reasons behind consulting with an elearning app development company, some of them as listed below:
Our Own Forte
Popular Monetization Models For A
Profitable elearning App Development
Take a look at some of the top-notch monetization models for elearning app development
Metrics To Track App Progress
General Features In An
eLearning Platform
STUDENT MODULE
Social Login/Signup

Browse through Free content

Browse through various subscription plans

Payment for a course or e-learning plan

View and choose available courses

Join Online Class

View and perform practice tests and test series.

Post questions and doubts

Search and filter through online tutors
Select Tutor

Consult Tutor via live chat, video call or through a forum.

View Personalized growth over the platform

Read related blogs and articles of a subject/course/topic

Review and submit assignments given by tutors

Download and view content offline

Rate and Review courses and tutors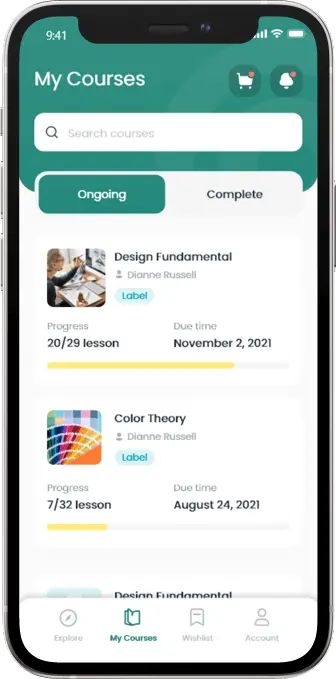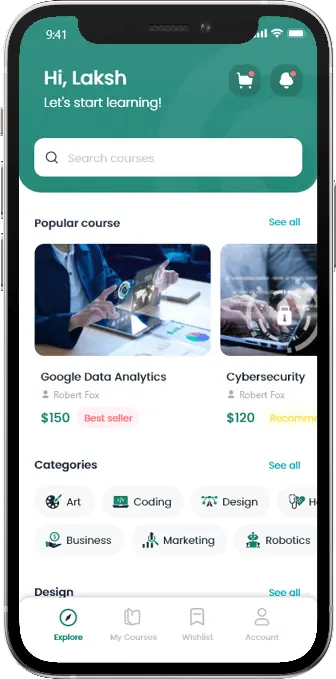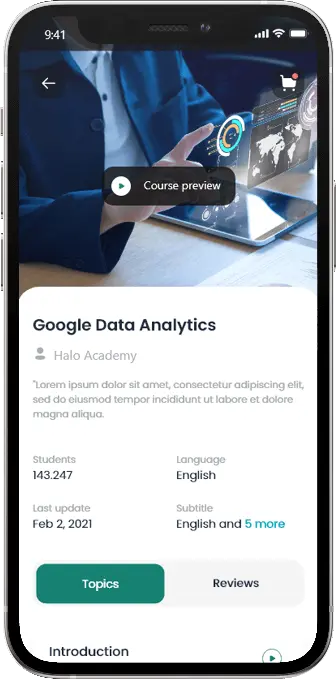 TUTOR MODULE
Registration and Login

Create and Manage Detailed Profile

Manage Account Settings

Schedule Live Sessions

Live Class Controlling System

Post Assignments

Sort and Answer queries posted by student

Interact with Students via text, audio, or video

Push Notifications for student interaction

Overview of Sessions/Earnings over the Dashboard

View Ratings and Reviews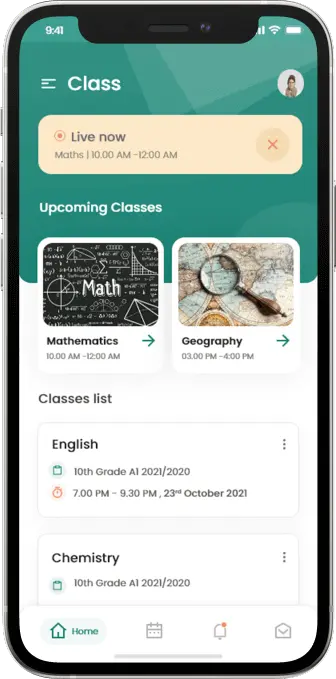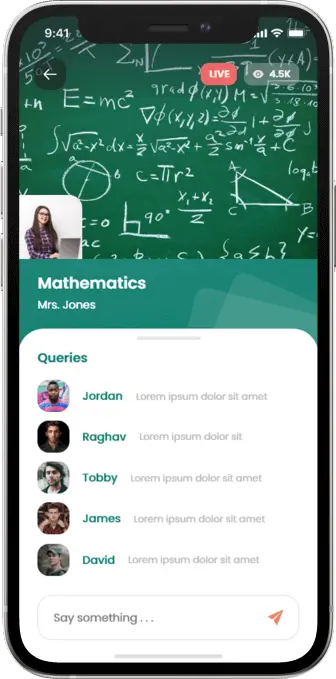 PARENT MODULE
Registration / Login with Email

Track Student Performance

Track Course Progress

Consult with Teachers via Chat

Check assignments and Test results

Manage Subscription of courses

Push Notification by Tutors and Admin

Track attendance of student

View Student Leaderboard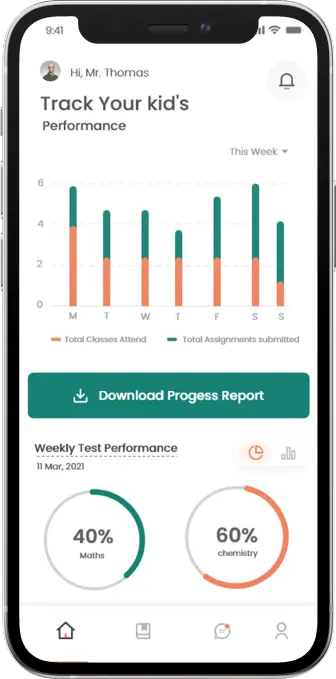 ADMIN PANEL MODULE
Manage Students and Tutors

Manage Subjects and Courses

Student Information Management System

Manage Subscription Plans
Manage Content

View Reports for earning and user engagement

View overall rating/reviews of Students and Tutors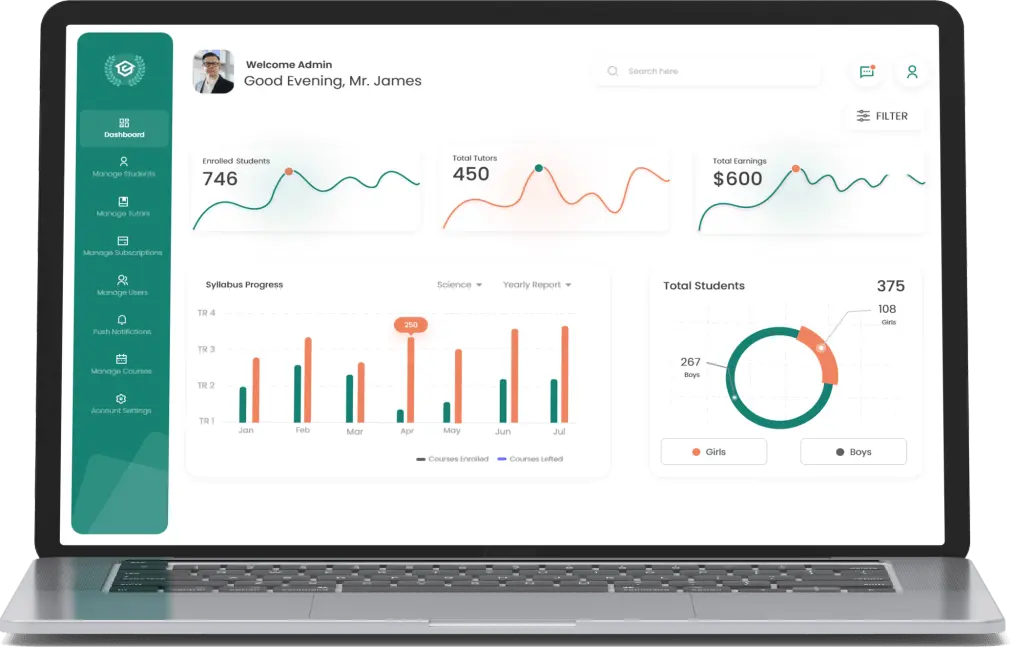 Advanced Features To Include
In An eLearning Platform
Our elearning app development company believes that features are an integral part of any app, and advanced features pave the way for higher ROI.
Take a sneak peek at some of the best elearning app development features:
Multiple Language Support
Chat room + Video Streaming
Tech Stack Needed For
eLearning App Development
PAYMENTS
Braintree & PayPal
E-wallets
Stripes
DATABASE
MongoDB
Mail Chimp
Integration Cassandra
HBase
STREAMING MEDIA
SYSTEM
Helix Universal Server
Nimble Streamer
Wowza Streaming Engine
SMS, VOICE, AND
PHONE VERIFICATION
Frequently Asked
Questions
The cost of elearning app development is not universal. It depends on each developer and numerous factors, including choice of the platform, UI/UX design, tech stack used, etc.
According to our elearning app development company, features of any app can make or break the overall functioning of an app. Therefore, some of the best features integrated during elearning app development are video streaming, gamification, data security, etc.
Yes, there are multiple types of elearning app development, such as LMS, Student Management Systems, Video Conferencing Software, Virtual Classroom Software, etc., and our elearning app development company, 'Techugo,' can build anyone of them.
Most-used metrics involve churn rate, active users, average revenue, Return on Investment, and more.
Some of the most popular business models used for monetization by an elearning app development company include subscriptions, freemium, in-app purchases, in-app ads, and paid installs.
Our expertise being a top elearning app development company is enormous. Such as:
- On-demand elearning app
- Learning management systems
- App Integration with CRM
- Language Learning Apps
- Apps for Exam Preparation
Testimonials & Reviews
Here's what makes us go the extra mile!
"I was impressed with their timeliness, communicativeness, and keen understanding of the project. Techugo successfully delivered a fully functional and user-friendly app, which received positive feedback from my users."
"Techugo delivered high quality and accountability through effective project management & exceptional communication."
Gavin Lund
Sterkla
"They never left me hanging with the work. Techugo develops through its professional approach. They lead a communicative process, keeping everyone involved updated with the project."
Vicky Knowler
Champagne Photography Studio Inc
"I love their creativity, their designs are really fresh and modern. Right from the onboarding process to the Managerial Skills, I am highly impressed. I talk to them these days, even more than my family members, as they are not my tech partners but have become a part of my family now."
Xenia Ghali
Mynt
"Techugo never gives up on challenges and is able to communicate any issues the right way. They have the key experts to find and provide you with the Right Solutions."
Giuliano Cognini
Follow the notes
"The Product Manager is very thorough with his pointers and clarifications. I am super excited for the live process. You guys have done a great work."
Abdulaziz Aljeshi
Gymnest
"Brimming with innovative ideas and dependable technical expertise, Techugo meets their client's development needs and strives to complete their project timelines."
"Throughout the project, they were thorough with explanations, committing themselves to fix our problems. Techugo has been a strong partner for the client. They communicate well and always provide options for dealing with app-related challenges."
"They follow an agile methodology and work with the client daily to ensure the app runs properly."
"They guide me in how things can be done better. They've produced an impressive app featuring all requested design elements."
"I would definitely recommend Techugo. They're also good and on time in their follow-ups. In addition, they're swift compared to other companies I worked with. Lastly, Techugo recently opened an office nearby, which makes a big difference for me."
Amin Rasti
McGillivray Group
"The most impressive thing about Techugo is that the team operates as a family. Techugo produces quality results in a timely and collaborative manner."
Mohammed Abdul Moula
Winchat
"The entire team was experienced and delivered exceptional work. Techugo delivered everything on time and tracked the project through Zoho."
Ashutosh Pandey
SP Jain School of Management
"They have an excellent method of thinking things through to find a better solution. Techugo was available 24/7. Whenever I emailed or texted them with a question, they returned to me. Since we're in different time zones and continents, I found that especially impressive"
"They have done a great job with the services they have provided for us. For us, Techugo shined brightly with their professionalism."
"Techugo communicated clearly and consistently about their expectations, progress, and vision throughout the project."
Wilhelm Myrer
Twoway Energy Ventures
"Because they have so many skill sets, we get past it quickly when we hit a roadblock. They have a lot of people in-house. If the dedicated resource on my project can't do something, they have a backup. They have people skilled in different techs."
"They really helped me gain confidence by working with them. Organisation, transparency, and quality assurance set Techugo apart from other providers."
Raghunandan Malik
Eastern Book Company
"We're loving the work. Your team is simply amazing. We have a long way to go, phase 1 is just the beginning."
Kenneth Butler
Dj Connect
"I think they're awesome. I've talked to them at 2 a.m. or later. If I need them, I can send an email and get a response within an hour. If they can't answer my question right away, they'll let me know that they're working on an answer. Their prompt response to my questions and concerns is what distinguishes them from others."
Tajudeen Raji
Reachout Wellness

Get in touch.