Home Services are the Need of the Hour:
Here's Why ?
Increased Convenience
Who doesn't desire convenience nowadays? Thus, on-demand home services app development provide the same; these applications are life saviors that provide such services under one roof. Users can browse the services they're looking for, analyze them based on reviews, and hire someone as per their preference.
Diminished Cost
One of the primary drivers for customers is the cost. Compared to traditional providers, on-demand home services app development quote much lower prices, which is one of the primary reasons for boosted demand for the same.
Easy Transactions
On-demand home services app development act as a bridge between potential customers and service providers. End users can easily acquire services via these apps and seamlessly initiate payments within the app.
Saves Time
Users have shifted to online services because it saves ample amount of time. Therefore, one of the top-notch objectives of on-demand service providers is to deliver what has been requested in no time.
Significant Strategies to Follow to Become the Best
Home Services App Provider
Identification of Consumer Needs
Before diving straight into on-demand home services app development, it is critical to understand your customers' needs and requirements. How will you do so?
Market research is a solid option to help you analyze the market to set your objectives right.
Keep an Eye on Your Competitors
Sure, having insights into customer needs is significant; however, it is equally important to know your competitors' trends and strategies
Punctuality is a Must
As mentioned earlier, people prefer seeking an on-demand service for its quickness. Thus, there's a high chance of getting doomed if you compromise with the same. While a service provided beforehand or on time will help you retain customers.
Smooth App Onboarding
Indeed, the competition in the on-demand industry has skyrocketed, and it is incredibly vital to ensure that your customer's onboarding experience is exceptional in terms of engagement.
Efficient Use of Push Notifications
While proper use of push notifications can do wonders for a business, it can be equally harmful if directed at the wrong time. Additionally, you must ensure that the framework of your push notification doesn't seem like an ad but an intriguing or useful piece of information.
Build a Strong Product Before Marketing
Spending millions on marketing won't help unless you build a product that amazes your target audience. Your home service app will act as a foundation before you invest in the same; thus, make it capable.
Valuable Technologies Used for Home Services App

Development
Incorporating advanced technologies in your on-demand home services app development will be the icing on the cake. Take a look at some of the best integrations:
In-App Payments
Providing multiple payment options to your app users makes them feel empowered. Thus, integrate payment gateways for secure transactions.
Voice Assistants
This feature enables service providers and customers to use the app via voice commands easily.
Blockchain
This tech is used to offer efficacy in streamlining the work processes.
Business Models of On-Demand Home Services App
Development
Subscription-Based Model
It is a widely used business model for businesses that includes a recurring payment mechanism for acquiring services. Customers tend to opt for this model as it has multiple perks or benefits.
Transaction-Based Model
The transaction-based model involves the cut down of commission by home service apps for every transaction that occurs. In addition, this model helps build a scalable platform since more revenue is generated as transactions occur.
Lead-Based Model
A lead-based model involves a bidding system where customers mention their requirements, after which the service providers bid for the task. Then, the customers can compare the providers' prices and make an informed decision based on the details provided.
Indeed, it's one of the best models for customers, service providers, and aggregators.
Full-Stack Model
A home service business that integrates this model does not involve any third parties, instead relies on its team for task accomplishment.
Though this model can be a little challenging to implement, it's the most profitable!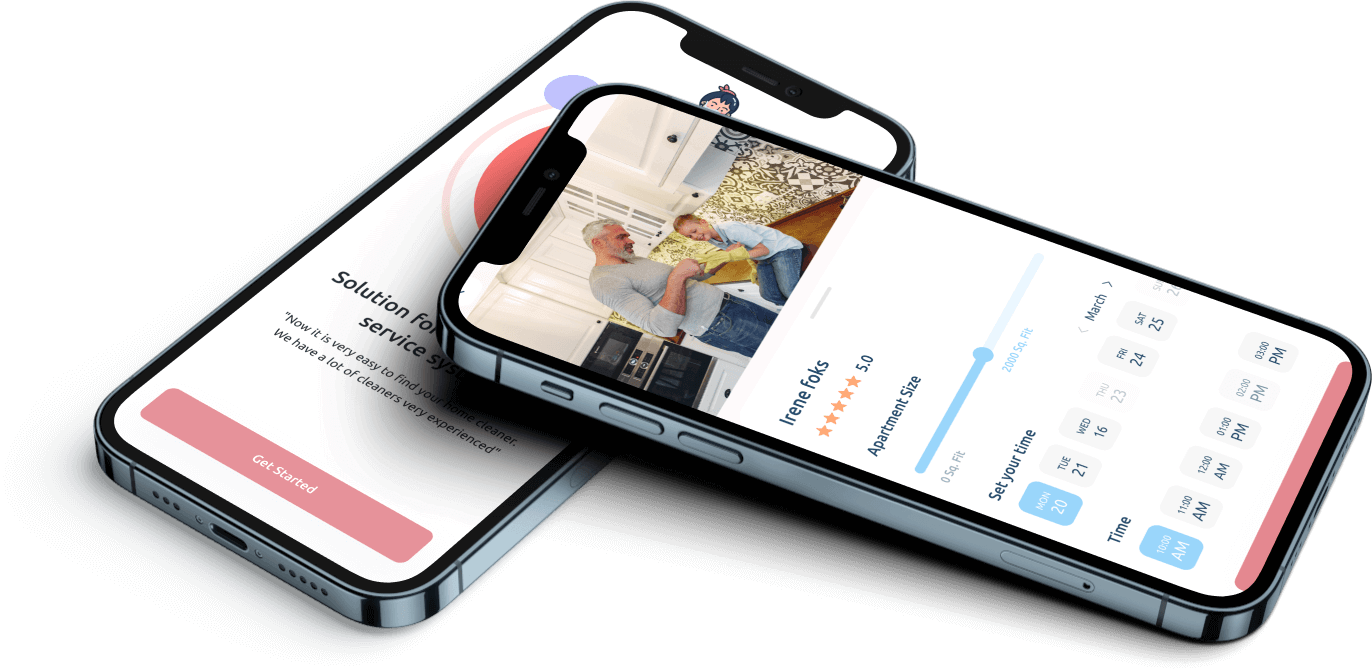 Must-Have Features of a Home Services App
Development
For Service Providers
Registration and Profile Approval
Real-Time Request
Payment Details
Customer Feedback
Browse Services
Advanced Search and Filter
In-App Chats
Push Notifications
For Customers
Browse Professionals
Service Scheduling
Approval Notification
Multiple Payment Options
Ratings and Review
Customer Help Desk
For Admin Panel
Interactive Dashboard
Service List Creation and Management
Analytics
Verification of Service Providers
Payments Management
Price Tagging
Service Assistance
Why Choose Techugo for

Home

App Development?
Being a top-notch edTech solution provider, Techugo transforms young and old businesses into the best of their versions by constructing a solution that works in favor of them. Need more reasons?
User-Friendly and Appealing Solutions
Highly Scalable
Secured Payments
Personalized software
Full-Time Support
Intriguing UI
Have more queries regarding on-demand
home services app development? Get
expert consultation today

Get in touch Frequently Asked
Questions
A smartphone application, known as a "home services app," links service providers with clients requiring a range of residential services. Users may use it as a platform to order services like cleaning, plumbing, electrical work, home repairs, gardening, and more.
An app for home services app development generally functions by letting users register, look through a list of services, choose a service provider based on ratings and reviews, and schedule an appointment. When new job requests come in, service providers are notified to accept or decline them, depending on their schedule. Through the app, users may pay for services, connect with service providers, and check the progress of their reservations.
An on-demand home services app Development may have the following essential features:
1. Registration and profiles for users
2. Ratings and profiles of service providers
3. Lists and categories of services
4. Real-time scheduling and booking tool
5. GPS to track service providers
These are some essential features of the House Services app.
Typically, technologies like these are used in developing on-demand home services app development.
1. Frameworks for creating mobile applications, such as React Native and Flutter
2. Development of the back end using Python, Ruby, or Node.js
3. Data synchronization in real time using WebSocket or Firebase
4. Location-based services and GPS tracking
5. Integration of payment gateways (such as Stripe and Braintree)
6. Employing systems like Apple Push Notification Service (APNs) or Firebase Cloud Messaging, push notifications.
These are the technologies that are in the home services app.
To maintain user security, home service applications frequently adopt safety measures. It can entail confirming the legitimacy and experience of service providers, enabling users to report any difficulties or problems, offering service insurance, and putting in place a framework for resolving disputes between users and service providers.
Apps for home services can make money in several ways, including:
1. Service provider commissions: Charging service providers a percentage or set fee for each finished work they get through the app.
2. Service fees: Each booking made by a user will have a service charge added to the final price.
3. Featured Listing: Services providers can choose how to advertise their profile or services by paying for highlighting listing, which is what is meant by "Featured Listing."
4. Ads and Partnership: Displaying customized advertisements or collaborating with companies that provide home services are two ways to gain cash from advertising.
These are how home services apps generate money.
Most home services app development has a chat function or message system that enables consumers and service providers to engage with one another. Thanks to this, users may now discuss their needs, ask questions, and receive information on the status of the services.
Users can pay for services in a home services app using a variety of ways, including in-app payment systems, credit or debit card transactions, digital wallets (such as PayPal and Apple Pay), and credit or debit card payments. The app may interface with a secure payment gateway to enable safe and simple transactions.
Testimonials & Reviews
Here's what makes us go the extra mile!
"I was impressed with their timeliness, communicativeness, and keen understanding of the project. Techugo successfully delivered a fully functional and user-friendly app, which received positive feedback from my users."
"Techugo delivered high quality and accountability through effective project management & exceptional communication."
Gavin Lund
Sterkla
"They never left me hanging with the work. Techugo develops through its professional approach. They lead a communicative process, keeping everyone involved updated with the project."
Vicky Knowler
Champagne Photography Studio Inc
"I love their creativity, their designs are really fresh and modern. Right from the onboarding process to the Managerial Skills, I am highly impressed. I talk to them these days, even more than my family members, as they are not my tech partners but have become a part of my family now."
Xenia Ghali
Mynt
"Techugo never gives up on challenges and is able to communicate any issues the right way. They have the key experts to find and provide you with the Right Solutions."
Giuliano Cognini
Follow the notes
"The Product Manager is very thorough with his pointers and clarifications. I am super excited for the live process. You guys have done a great work."
Abdulaziz Aljeshi
Gymnest
"Brimming with innovative ideas and dependable technical expertise, Techugo meets their client's development needs and strives to complete their project timelines."
"Throughout the project, they were thorough with explanations, committing themselves to fix our problems. Techugo has been a strong partner for the client. They communicate well and always provide options for dealing with app-related challenges."
"They follow an agile methodology and work with the client daily to ensure the app runs properly."
"They guide me in how things can be done better. They've produced an impressive app featuring all requested design elements."
"I would definitely recommend Techugo. They're also good and on time in their follow-ups. In addition, they're swift compared to other companies I worked with. Lastly, Techugo recently opened an office nearby, which makes a big difference for me."
Amin Rasti
McGillivray Group
"The most impressive thing about Techugo is that the team operates as a family. Techugo produces quality results in a timely and collaborative manner."
Mohammed Abdul Moula
Winchat
"The entire team was experienced and delivered exceptional work. Techugo delivered everything on time and tracked the project through Zoho."
Ashutosh Pandey
SP Jain School of Management
"They have an excellent method of thinking things through to find a better solution. Techugo was available 24/7. Whenever I emailed or texted them with a question, they returned to me. Since we're in different time zones and continents, I found that especially impressive"
"They have done a great job with the services they have provided for us. For us, Techugo shined brightly with their professionalism."
"Techugo communicated clearly and consistently about their expectations, progress, and vision throughout the project."
Wilhelm Myrer
Twoway Energy Ventures
"Because they have so many skill sets, we get past it quickly when we hit a roadblock. They have a lot of people in-house. If the dedicated resource on my project can't do something, they have a backup. They have people skilled in different techs."
"They really helped me gain confidence by working with them. Organisation, transparency, and quality assurance set Techugo apart from other providers."
Raghunandan Malik
Eastern Book Company
"We're loving the work. Your team is simply amazing. We have a long way to go, phase 1 is just the beginning."
Kenneth Butler
Dj Connect
"I think they're awesome. I've talked to them at 2 a.m. or later. If I need them, I can send an email and get a response within an hour. If they can't answer my question right away, they'll let me know that they're working on an answer. Their prompt response to my questions and concerns is what distinguishes them from others."
Tajudeen Raji
Reachout Wellness

Get in touch.
We're excited to hear from you and let's start something special together. Call us for any inquiry