3 Business Models for Laundry
App Development
On-Site Laundry Services
It is one of the most popular business models for laundry app development as it provides its customers with laundry pick-up and delivery options.
In-Store Laundry Services
This business models allow customers to drop off their clothes at the store and enjoy hassle-free dry cleaning and home delivery services.
Laundry Service Marketplace
This laundry app development business model is a collaborative marketplace that provides cleaning services to customers from their nearby professionals.
The Working Mechanism of

Laundry App Development
For Customers
Filter & Search
Customers can select services based on filters, including price, location, and more.
Order & Schedule
The next step is to add order details and schedule package pickup and delivery.
Seamless Payment
Laundry app development is integrated with multiple payment gateways for app users to choose for easy transactions.
Live Tracking
Once the order is submitted, customers can check the status of their laundry.
For Admin
Order Notification
Once a customer places an order, the admin receives the notification immediately.
Order Information
The entire information about the customer order and details are sent to the admin.
Dispatch Automation
The dispatch status is automatized with the optimized route.
Invoices
The invoice is generated along with the analytics reports.
Features of Laundry
App Development
Customer App
Login/Sign up
Laundry services management
Category management
Location-based search
Order scheduling and placing
Promo codes
Multiple payment methods
Reviews and ratings
Driver App
Login
Accept/Decline the order
Order detail
Delivery history
Order status update
Payment history
Geo location
Push notifications
Services App
Login/Sign up
Service management
Order detail
Order history
Driver management
Promo code
Profile setting
Customer support
Admin Panel
Login
Dashboard management
Drive management
Services
Delivery management
Payment
Support tracking
Review & rating
Steps to Initiate Laundry
App Development!
STEP
Project Planning
Once you've decided to build a laundry app, it's time to get started with the planning process. Thus, acquire answers to questions like:
- Aim of the app
- Features to be incorporated within the app
- The competitors
- AND MORE
1
STEP
Budget Planning
- Now that you have an understanding of your requirements, you need to align your budget as per your needs.
2
STEP
Decide the Project's Scope
The next step is to emphasize the project scope. Plan the amount of money and resources that'll be invested from laundry app development to the deployment stage. Furthermore, hire the best laundry app development company to avoid facing any long-term issues.
3
STEP
The Development Stage
Techugo- a top-notch laundry app development company, associates its best tech developers with the project to follow the best design practices, prototypes, and more. Additionally, our QA team ensures that the app is bug-free for its smooth functioning.
4
STEP
App Deployment
5
The final step is the app deployment. As a leading laundry app development company, we take care of the formalities, and submit all data & documentation.
Why Choose Techugo for Laundry

App Development?
Here's why you must opt for Techugo- a reliable laundry app development company for your digital laundry solutions:
User-Friendly and Appealing Solutions
Highly Scalable
Secured Payments
Personalized software
Full-Time Support
Intriguing UI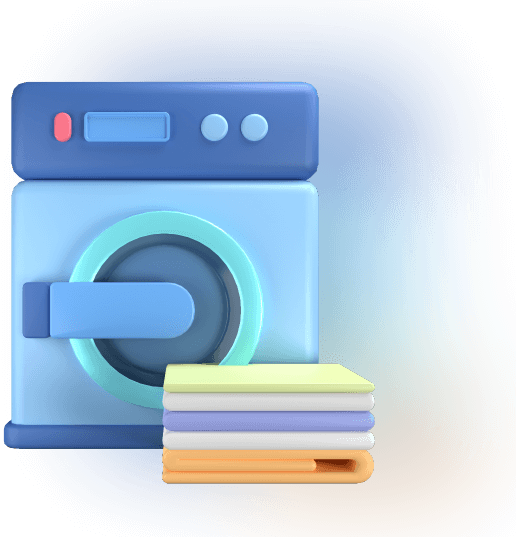 Frequently Asked
Questions
According to reports, the global online on-demand laundry service market size was around USD 16.34 billion in 2021. However, it is projected to touch USD 28.63 billion by the end of 2030.
The advantage of offering services via laundry app development is the low labor costs while there's a solid consumer base.
Primarily, there are three types of laundry app development that includes:
- Pickup laundry services
- Commercial laundry services
- Dry cleaning services
The functionality offered by a laundry service app development company is as mentioned below:
- Signup
- Search for nearby laundry services
- Location sharing
- Order tracking
- Payment
- Feedback
Some of the core features of laundry app development are one-tap pickup request, scheduling, split payment, set multiple prices, tracking, and cost calculator.
Testimonials & Reviews
Here's what makes us go the extra mile!
"I was impressed with their timeliness, communicativeness, and keen understanding of the project. Techugo successfully delivered a fully functional and user-friendly app, which received positive feedback from my users."
"Techugo delivered high quality and accountability through effective project management & exceptional communication."
Gavin Lund
Sterkla
"They never left me hanging with the work. Techugo develops through its professional approach. They lead a communicative process, keeping everyone involved updated with the project."
Vicky Knowler
Champagne Photography Studio Inc
"I love their creativity, their designs are really fresh and modern. Right from the onboarding process to the Managerial Skills, I am highly impressed. I talk to them these days, even more than my family members, as they are not my tech partners but have become a part of my family now."
Xenia Ghali
Mynt
"Techugo never gives up on challenges and is able to communicate any issues the right way. They have the key experts to find and provide you with the Right Solutions."
Giuliano Cognini
Follow the notes
"The Product Manager is very thorough with his pointers and clarifications. I am super excited for the live process. You guys have done a great work."
Abdulaziz Aljeshi
Gymnest
"Brimming with innovative ideas and dependable technical expertise, Techugo meets their client's development needs and strives to complete their project timelines."
"Throughout the project, they were thorough with explanations, committing themselves to fix our problems. Techugo has been a strong partner for the client. They communicate well and always provide options for dealing with app-related challenges."
"They follow an agile methodology and work with the client daily to ensure the app runs properly."
"They guide me in how things can be done better. They've produced an impressive app featuring all requested design elements."
"I would definitely recommend Techugo. They're also good and on time in their follow-ups. In addition, they're swift compared to other companies I worked with. Lastly, Techugo recently opened an office nearby, which makes a big difference for me."
Amin Rasti
McGillivray Group
"The most impressive thing about Techugo is that the team operates as a family. Techugo produces quality results in a timely and collaborative manner."
Mohammed Abdul Moula
Winchat
"The entire team was experienced and delivered exceptional work. Techugo delivered everything on time and tracked the project through Zoho."
Ashutosh Pandey
SP Jain School of Management
"They have an excellent method of thinking things through to find a better solution. Techugo was available 24/7. Whenever I emailed or texted them with a question, they returned to me. Since we're in different time zones and continents, I found that especially impressive"
"They have done a great job with the services they have provided for us. For us, Techugo shined brightly with their professionalism."
"Techugo communicated clearly and consistently about their expectations, progress, and vision throughout the project."
Wilhelm Myrer
Twoway Energy Ventures
"Because they have so many skill sets, we get past it quickly when we hit a roadblock. They have a lot of people in-house. If the dedicated resource on my project can't do something, they have a backup. They have people skilled in different techs."
"They really helped me gain confidence by working with them. Organisation, transparency, and quality assurance set Techugo apart from other providers."
Raghunandan Malik
Eastern Book Company
"We're loving the work. Your team is simply amazing. We have a long way to go, phase 1 is just the beginning."
Kenneth Butler
Dj Connect
"I think they're awesome. I've talked to them at 2 a.m. or later. If I need them, I can send an email and get a response within an hour. If they can't answer my question right away, they'll let me know that they're working on an answer. Their prompt response to my questions and concerns is what distinguishes them from others."
Tajudeen Raji
Reachout Wellness

Get in touch.