Fantasy Sports App Development
Turn Ideas Into Million-Dollar Businesses!
Are you ready to get an exciting fantasy sports app developed by a top fantasy sports app development company? Since industries are encountering significant technological transformations, fantasy sports are no exception. Sports like basketball, cricket, and hockey have immensely captured the attention of their audience, and gaming enthusiasts have now started participating in online leagues. The demand for fantasy sports apps is incredibly growing, and it has become an intriguing business opportunity.
What are your thoughts on fantasy sports app development? We are a leading fantasy sports app development company that can fabricate a fantasy sports app for you to woo your audience.
Let's have discussion
Get an Extended Level of Business Growth with Our

Fantasy Sports App Development Company
Do you need to figure out whether fantasy sports app development is worth your investment? If yes, here are some of the best reasons articulated by none other than the experts of Techugo, a top Fantasy sports app development company.
Stabilized Brand Name
It is vital to exhibit a brand name to flourish in online gaming. Therefore, a jaw-dropping fantasy sports app built by the fantasy sports app development company will enable you to establish a solid brand name in the market.
Visible Monetization Opportunity
No wonder, generating higher revenue is a primary objective of any business, and a highly optimized fantasy sports app development will benefit exceptionally due to its increased demand.
Solid Consumer Base
Partnering with the best fantasy sports app development company will help you build a unique platform that acquires an advantage over the rest of the market. Thus, it'll rope in a solid consumer base and help you form a strong grip on the industry.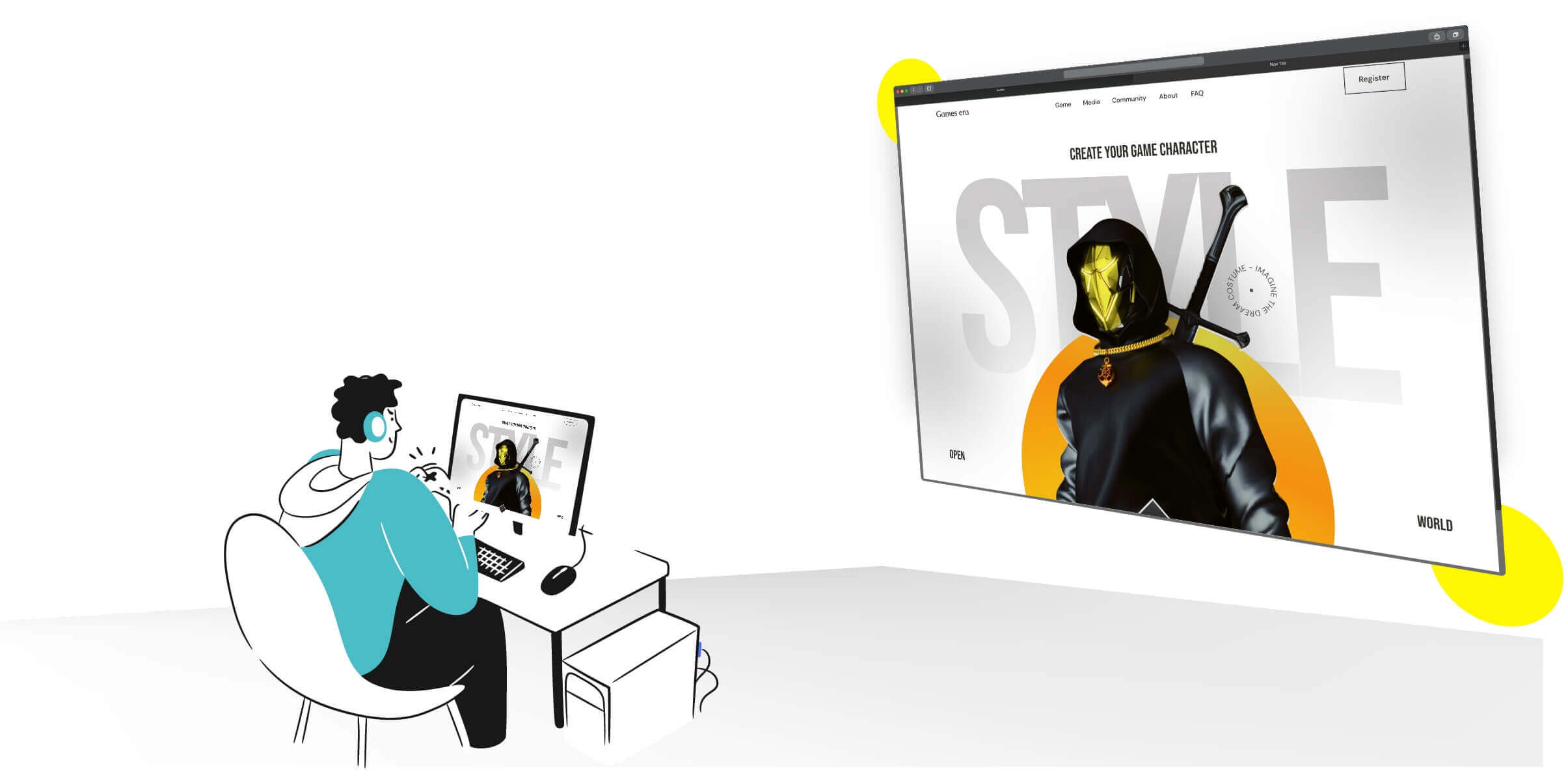 Features of a News-Worthy
Fantasy Sports App Development
To develop a tremendous fantasy sports app, you must include several jaw-dropping features. And guess what?
Our dynamic fantasy sports app development company will help you integrate some dynamic features. Such as:
User Panel
Registration
Live score and updates
Joining a game
Push notifications
Team selection
Analytics & stats
Admin Panel
Sign-up/Login
Analytics report
Contest and result management
Notifications
Merchandise sales
Reward management
Additional Features
Commentary feed
Build contests
In-app chat
Referral bonus
Score prediction
Group creating
Fantasy Sports App & Technologies: A Deadly
Combination Brought in by Techugo, A Leading

Fantasy Sports App Development Company!
Here are some of the best ideas for amalgamating your fantasy sports app development with technologies for enhanced functioning.
Personalization with AI
Using the potential of AI, a fantasy sports app development company, brings a personalized touch to your digital solution and elevates it for further performance. The tech can be used to forward notifications or introduce contests based on players' data. Additionally, deep learning is another contributing factor that helps enhance the user experience.
AR/VR Creates a Life-Like Environment
AR and VR allow users to reside in a virtual environment with the help of 3D projections, smart glasses, and more. Moreover, incorporating these technologies provides a realistic experience to the app users. For the integration of AR/VR technology, get in touch with our Fantasy sports app development company.
Blockchain Ensures Security
App users look for a platform that ensures security and allows them to transact safely. Thus, blockchain is a technology network that decreases fraudulent transactions. It is a great fit with fantasy sports app development as it accelerates processes and ensures security.
Social Media Integration
Social media is another vital element for mobile apps as it lets people connect with others and helps enhance brand awareness. As the influence of social media is growing, adding its terrific effects to your app can be a creative solution. For any further information on how you can integrate social media into your fantasy app, just get in touch with a top fantasy app development company.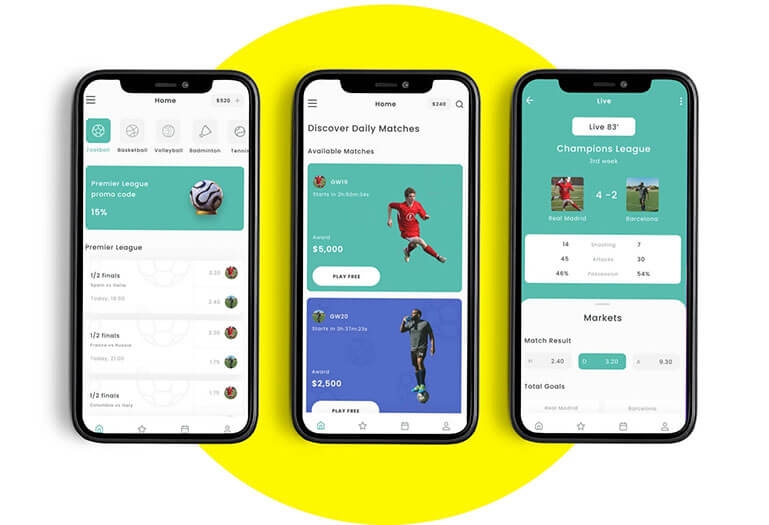 A Complete Procedure by Fantasy Sports App Development
Company to Develop Your Next-Gen Solution!
Listed below are the six steps that a fantasy sports app development company would follow to deliver an incredible sports app:
Research your competitors
Choose the right platform
Pick an accurate tech stack
Keep up with the trends
Design and development
Select a monetization model
Factors Affecting Fantasy

Sports App Development Cost
Fantasy sports app development is a complex activity that involves a number of elements and steps to build a product that flourishes. These elements will also affect the overall cost of app development. Thus, here are a few factors that majorly impact the cost of fantasy sports app development:
App platform
Tech stack
Types of sports
App maintenance
Location of developers
App features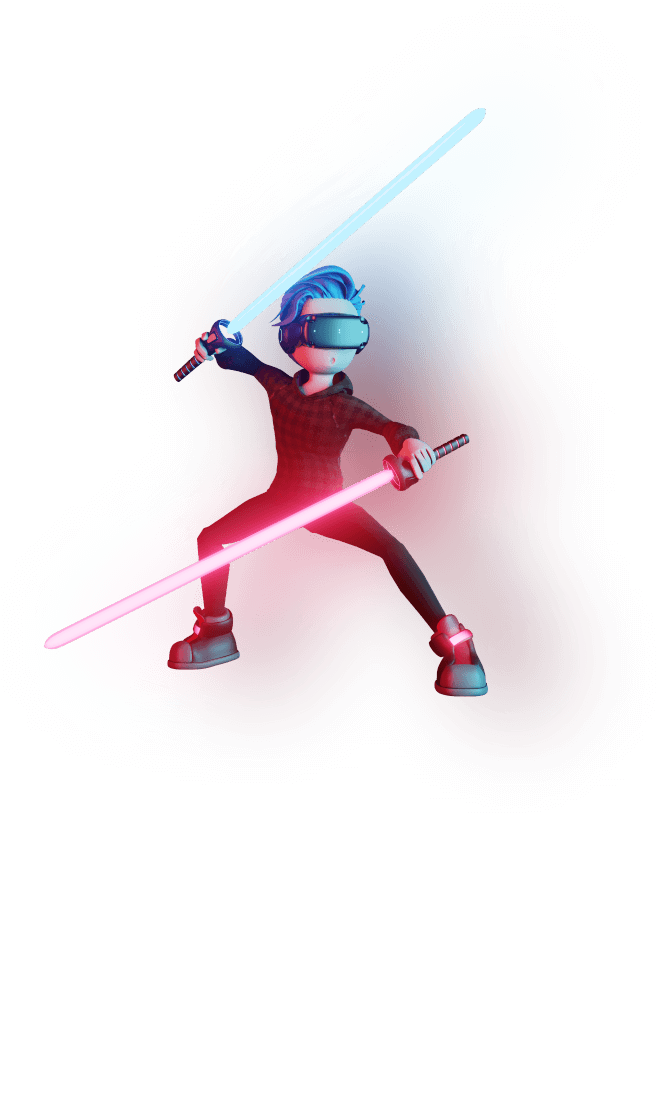 Why Choose Techugo, a Top Fantasy

Sports App Development Company?
Being a reliable fantasy sports app development company, we ensure that our team follows the best practices to build the app of your dreams.
Blockchain-Based Fantasy App
Nothing beats the joy of building a blockchain-based fantasy sports app, considering security and privacy.
AI-Based Fantasy Apps
Our brood of experts incorporates AI into fantasy sports apps to improve the overall user experience.
eCommerce Integration
By amalgamating eCommerce with fantasy sports applications, it enhances user interaction while allowing users to purchase sports merchandise.
IoT-Based Fantasy Apps
IoT is a rising tech utilized to develop an advanced fantasy gaming experience by capturing user data.
Have more queries regarding fantasy sports app development? Get expert consultation today!

Get in touch Frequently Asked
Questions
The technologies used by our fantasy sports app development company are:
- Front-end development: CSS, HTML, JavaScript
- Back-end development: Java, PHP, Ruby
- Frameworks: AngularJS, Bootstrap, Vue.JS, JQuery
- Native mobile app development: Kotlin for Android, Swift for iOS
- Cross-platform app development: Flutter, React Native
The benefits offered by a fantasy sports app development are:
- Stability of brand name
- Exceptional monetization opportunities
- Solid consumer base
- Personalization using AI
A fantasy sports app development company may cost as low as $35,000 to as high as the app owner demands. There are factors that may influence the overall app development cost, including choice of the platform, UI/UX design, number of features integrated, etc.
When you hear from the experts of our fantasy sports app development company, here is how the digital solution makes money:
- Advertising fee
- Subscription
- Partnerships
Since there are millions of sports fans and the number of people playing fantasy sports, it's a market worth investing. However, you can connect with our fantasy sports app development company to learn more about the fruitful benefits of investing in the technology solution.
Yes, why not?
You can resolve all your queries about app development by getting in touch with our fantasy sports app development company. Coming to the question, the cost to build an app depends on various factors such as app complexity, features, functionalities, tech stack, location of the developers, and various others.
Here are all the services that we offer to our clients:
- Concept development
- Third-party integration
- User account management
- App designing
- App backend-frontend development
- Real-time data integration
- Ongoing support and maintenance.
Testimonials & Reviews
Here's what makes us go the extra mile!
"I was impressed with their timeliness, communicativeness, and keen understanding of the project. Techugo successfully delivered a fully functional and user-friendly app, which received positive feedback from my users."
"Techugo delivered high quality and accountability through effective project management & exceptional communication."
Gavin Lund
Sterkla
"They never left me hanging with the work. Techugo develops through its professional approach. They lead a communicative process, keeping everyone involved updated with the project."
Vicky Knowler
Champagne Photography Studio Inc
"I love their creativity, their designs are really fresh and modern. Right from the onboarding process to the Managerial Skills, I am highly impressed. I talk to them these days, even more than my family members, as they are not my tech partners but have become a part of my family now."
Xenia Ghali
Mynt
"Techugo never gives up on challenges and is able to communicate any issues the right way. They have the key experts to find and provide you with the Right Solutions."
Giuliano Cognini
Follow the notes
"The Product Manager is very thorough with his pointers and clarifications. I am super excited for the live process. You guys have done a great work."
Abdulaziz Aljeshi
Gymnest
"Brimming with innovative ideas and dependable technical expertise, Techugo meets their client's development needs and strives to complete their project timelines."
"Throughout the project, they were thorough with explanations, committing themselves to fix our problems. Techugo has been a strong partner for the client. They communicate well and always provide options for dealing with app-related challenges."
"They follow an agile methodology and work with the client daily to ensure the app runs properly."
"They guide me in how things can be done better. They've produced an impressive app featuring all requested design elements."
"I would definitely recommend Techugo. They're also good and on time in their follow-ups. In addition, they're swift compared to other companies I worked with. Lastly, Techugo recently opened an office nearby, which makes a big difference for me."
Amin Rasti
McGillivray Group
"The most impressive thing about Techugo is that the team operates as a family. Techugo produces quality results in a timely and collaborative manner."
Mohammed Abdul Moula
Winchat
"The entire team was experienced and delivered exceptional work. Techugo delivered everything on time and tracked the project through Zoho."
Ashutosh Pandey
SP Jain School of Management
"They have an excellent method of thinking things through to find a better solution. Techugo was available 24/7. Whenever I emailed or texted them with a question, they returned to me. Since we're in different time zones and continents, I found that especially impressive"
"They have done a great job with the services they have provided for us. For us, Techugo shined brightly with their professionalism."
"Techugo communicated clearly and consistently about their expectations, progress, and vision throughout the project."
Wilhelm Myrer
Twoway Energy Ventures
"Because they have so many skill sets, we get past it quickly when we hit a roadblock. They have a lot of people in-house. If the dedicated resource on my project can't do something, they have a backup. They have people skilled in different techs."
"They really helped me gain confidence by working with them. Organisation, transparency, and quality assurance set Techugo apart from other providers."
Raghunandan Malik
Eastern Book Company
"We're loving the work. Your team is simply amazing. We have a long way to go, phase 1 is just the beginning."
Kenneth Butler
Dj Connect
"I think they're awesome. I've talked to them at 2 a.m. or later. If I need them, I can send an email and get a response within an hour. If they can't answer my question right away, they'll let me know that they're working on an answer. Their prompt response to my questions and concerns is what distinguishes them from others."
Tajudeen Raji
Reachout Wellness

Get in touch.
We're excited to hear from you and let's start something special together. Call us for any inquiry